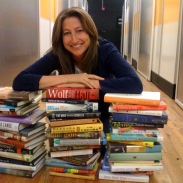 Kamy Wicoff is a co-founder, with Deborah Siegel, of She Writes, the largest online community of women writers in the world, which provides  support, resources and actionable advice.  She blogs at The Salonniere, and tweets (somewhat infrequently) at @shewritesdotcom and @kwicoff.  You can become a fan of She Writes on Facebook on the She Writes fan page.
This is an exciting time for She Writes: it turns one  on June 29. To celebrate the one-year anniversary on June 29, local groups will host meet ups in 16 cities—including London, Nashville, St. Louis, Austin, San Francisco and New York. Kamy and Deborah will announce a contest, The Passion Project, open to an emerging author and member of She Writes who has a non-fiction project in the works.
1. What do you love about your job?
What I love about my job is that every single thing I do, all day every day, from buying cookies to serve at our She Writes Knowledge Faire to blogging to doing 
She Writes Blog Talk Radio interviews
to brainstorming 
webinar
subjects, is all meant to help my community, the world I come from, the world of women writers.  I really feel like I wake up in the morning with one question on my mind: "How can I help women writers today?" and then answer it all day long.  So many sites meant to serve writers are run by software engineers or people who hope to make money off of writers' hopes without caring a whole lot about what they do.  Debbie and I started She Writes because we need this network as much as any of our members needed it — if not more.
2. Did you always know this was the job or career path for you?
God no.  I'm a writer!  I wanted to write books and get big advances and go to artists' colonies and live in my head.  But that world has disappeared, if it ever really existed.  I never dreamed of starting a company, and when I started She Writes I was so social-media-phobic I took my Facebook profile down after twenty-four hours because being on it induced serious panic.  (I now use Facebook all the time.)  I became an entrepreneur out of necessity, as the publishing world was imploding from an unsustainable business model and its failure to adapt quickly to a disaggregated and rapidly changing marketplace.  I realized that if I ever wanted a book of mine to reach its real audience, I was going to have to build the platform that could make that happen myself.
3. What are the most important lessons you have you learned along the way?
That starting a company is a lot like writing a book — perseverance is everything.  That and clarity of focus.  My mentor, Hope Edelman, once told me that I should write in one sentence, on an index card, what my book was about, and tape that index card to my computer monitor, so that every time I wondered whether a chapter, an idea or even a sentence truly belonged in my book, all I had to do was look at that sentence and ask myself, "does this serve the main idea I've stated here?"  It's easy to spin out into a million different directions when starting something new; it's hard to succeed if you let that happen.  I would also say that if you can find a partner, a true kindred spirit, confidant and collaborator who understands your vision, and is in it with you till the bitter end, you are really really blessed.  And I have that in Debbie.
4. Tell us about a defining moment for you related to your work.
The defining moment for me, thus far, was when I realized that I was taking She Writes in the wrong direction — spending too much money, and on things that weren't furthering our mission — and that I would have to admit this to myself, and then go through the painful process of eliminating staff and cutting costs to a bare minimum in order to reassess and produce a new strategy for going forward.  it was extremely painful and humiliating, not to mention difficult for those I had brought on board.  But I had to put the future viability of She Writes first, and reminding myself of that imperative on a daily basis got me through it.
5. What advice do you have for people looking to find work they love, in your field, or any field?
This is a tough one.  For one thing I think it's really important that I say that I have funded She Writes' first year myself, as our first angel and seed-investor, and 99% of people are in no position to do something like that, to create their own opportunity in that way.  That being said, I think it is absolutely crucial, and so rewarding, to choose work that allows you to serve a community you care about — to really dedicate yourself to solving the problems that community faces, and becoming part of the solution to their challenges. I can't think of anything more satisfying, and there are so many ways to do it aside from starting your own business.  The best way to feel good about your work is to feel good about improving the lives of others.  Or at least that's how it works for me.