Corinne McKay is a French to English translator who loves her job. She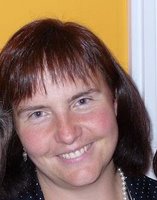 launched her translation business in 2002 after an eight-year career as a high school teacher and earned her translator certification from the American Translators Association in 2003. Corinne translates legal, corporate communications and international development documents and non-fiction books. In 2006, she published How to Succeed as a Freelance Translator, a career how-to guide for beginning translators, and her blog Thoughts on Translation is a lively discussion forum for freelance translators throughout the world. She also has a professional website translatewrite.com.
1. What do you love about your job?
I love to read and I love to write, and those are the basic skills that a translator uses every day. I love that every document I translate is something new: it might be a press release for a food industry trade show, a funding application for a vaccination program, or a script for a video about rock climbing ropes.  Also, I love running my own business; I'm a very self-directed person and I really enjoy setting my own goals and making my own decisions rather than working toward someone else's xpectations.
2. Did you always know this was the job or career path for you?
No! I always knew that I wanted to do something with French, but I thought that I needed a more social job like teaching. When I became a mom, I realized that I needed my own business in order to be able to fulfill my personal and professional goals and I've never looked back. Although I work alone and at the computer, I've used my local and national translators associations and my blog to build relationships with colleagues who have become close friends.
3. What are the most important lessons you have you learned along the way?
Don't expect too much return for too little marketing effort. In any type of freelance business, expect to spend most of your time looking for work for at least six months to a year. Become an extrovert; make sure everyone in your specialty knows you and trusts you. Never miss a deadline unless you're in the emergency room. Charge what you're worth and earn it.
4. Tell us about a defining moment for you related to your work.
During my first year of freelancing, I earned $9,000. I wasn't working anywhere near full time, but I still worked much too hard for that amount of money. I sat down and made a plan of action; a year later I was making as much money as I had made at my highest-paid teaching job. There was still more room for improvement, but I stopped agonizing over whether I was going to make it as a freelancer.
5. What advice do you have for people looking to find work they love, in your field, or any field?
Somewhere, there is an intersection between what you like to do and what people will pay for. I started out thinking that I wanted to write for magazines and newspapers, but I found that by combining my love of writing and my foreign language skills, I could earn a healthy income and still have time for my family and my personal interests. Also, I think it's important to listen to the people in your life who support your goals and believe in you. Starting my own business was a big risk, but my husband kept saying "You're smart, you have a lot of energy and you're good with people. You can
absolutely do this." Let the negative people in your life get negative with someone else!